Rockstar Triathlete Christopher Boykin
Coach's Notes: I am so incredibly proud of Christopher because he has busted through a more than year long case of limiting beliefs that has kept him stuck.
I asked him not to be focused on the outcome and simply follow the darn instructions, and show up for himself consistently over the next few months and we will get him across the finish line at Ironmman Florida, 2021.
He also joined my nutrition essentials program. And you can see from his before and after images below he is now 51 lbs lighter, after his own hard work and some additional tips from me.
The main goal as he writes below was not the race- but to improve quality of life and feel good in his body again.
The race was a struggle due to some tough cold windy conditions and he most definitely finished in 17+ hours and I so appreciate that he did not stop until he did the distance- BUT who cares, because the ultimate goal was realized- he did the distance of a full Ironman.
Now, He is back in his body again. In a place of feeling amazing and giving back. His energy and spunk are on high voltage.
So happy you are back Christopher- cannot wait to see what 2022 brings for you- You are definitely a Rock Star Triathlete!
Age: 49 (going on 17)

Profession: Executive Director of Pelican Harbor Seabird Station (Miami's Native Wildlife Hospital)
Why you chose FCC to help you on your triathlon/health and wellness journey? Because Erinne is "the bomb". I've known and seen her at races and out training since 2007 and I was always drawn to her warm, positive energy.
What is/was your "A" race for this season? Ironman Florida 2021
Please share your BIG goals: My BIG goals are to increase my fitness, vitality and quality of life by decreasing my BMI to under 25%, increasing my VO2 Max to the Good/Excellent range, move from a Clydesdale to an age grouper and finish in the top 25% of my races.
Tell me about your successes so far:
I completed 44 triathlons between 2007 to present with eight sprints and *Ironman Florida this year. I completed the New York, Chicago & San Diego marathons and four Ironmans with 13:36 being my fastest IM.

This summer I was the Clydesdale 40+ Division Champion at the Key Biscayne Trilogy Sprint Series.
*I assume that some people thought I was crazy for taking on IM FL with only two months of training and for going long before I was strong. It was part of my weight loss journey and I wanted/needed the challenge. My prior coach through Garmin/Training Peaks had discouraged me from attempting it. I appreciate Erinne's support of this decision.
What were some of your biggest improvements in performance for the each of the following? Swim: Bike: Run: Nutrition/Health: Please include any Personal Records and Goals achieved:
My VO2 max increased 4 points in just two months of training with Full Circle and the speed work at the track, pool and intervals on the bike helped so much.
My body has started to feel great again (like a machine) that is fun to be in and I didn't know if that would ever be possible for me again.
Name 2 or 3 things that have made the biggest difference in your journey:
Coach Erinne's knowledge and positive loving support
The amazingly friendly and wonderful athletes and coaches of Full Circle Coaching who have made getting up early fun again.
A great and oh so comfy bike fit by Coach Dennis and Perfect Aminos
What excites you the most about being involved in triathlon?
As a biologist/nature person I love being outside, the mornings and everything about triathlon. I have an obsessive personality and could become obsessed with digging ditches, but triathlon is so much more fun.
What would you say to another person who was on the fence about joining our training program?
Do it! You deserve it and will not regret it. Money comes and goes, but the best gift we can give ourselves and families is our own health so we can show up fully.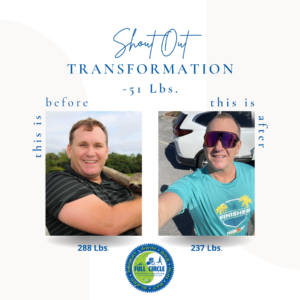 Curious about Full Circle's Triathlon Transformation program?
You too can become a triathlete! Use this link to schedule your FREE Triathlon Breakthrough Session Now! WWW.SCHEDULEYOU.IN/5ZISVAU
Erinne Guthrie is a USA Triathlon Level II Certified Coach since 1999 and Chief Motivating Officer at Full Circle Coaching, LLC since 2010. Creator of Triathlon Transformation. She has been training, racing and coaching triathletes since 1997. She is also a CHEK Holistic Lifestyle Coach Level 3, USMS Master's Swim Coach, Motivational Speaker, Metabolic Efficiency Specialist, Mom, Mermaid and much much more.