Sexy in Spandex, Ultimate Tri Camp Rockstar Triathlete: John Dodds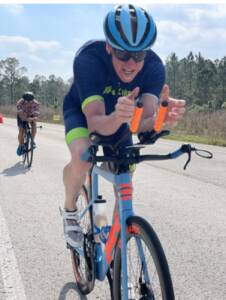 Coach Notes: John loves the triathlon lifestyle and exemplifies someone committed to the long term. Just as with any athlete in any sport, there is always something to improve upon, and I am so proud of how John has kept triathlon in his life even as he overcame prostate cancer and fear in the open water. We were with him every step of the way. So proud of you, John; let's keep the momentum going. See you soon at the Ride on Ryan Triathlon!
Age: 60 this year!
Profession: Director of Information Technology Quality
Why did you choose Ultimate Tri Camp for help in your triathlon journey?
In 2017 I saw a triathlon on TV and thought, I want to do this. A month before my 1st race, I participated in a one-day camp in Savannah with Coach Erinne from Full Circle Coaching, which was eye-opening.
At my race a few weeks later (at the Ride On Ryan Triathlon), an 80-year-old woman beat me silly at the finish line. I then decided Full Circle Coaching would be my coach.
Full Circle made me realize that Triathlon is a sport and a lifestyle.
It's more than swimming, biking, or running: it's mind, it's spirit, it's grit, it's heart, and nutrition, it's what you put in is what you get out.
Full Circle coaching is a full-spectrum, holistic mindfulness program.
And they'll make you "Sexy in Spandex."
Please share your BIG goals and how Ultimate Tri Camp supported you:
This year will be my 5th year at camp, and every year brings a new awareness. This year was big in swimming challenge awareness. I always wonder why I could swim 2000 meters in a pool and feel I had a great workout.
But swim 50 yards in a lake only to find myself floating, gasping for air, wondering where the buoy was. I realized this year, I never knew how to sight swim. Every time I lifted my head, my legs sank, and my body stopped like a bobber, then I power swam to get going again.
So, learning to relax in the water was my big takeaway. Camp addresses every conceivable concept and potential challenge.
Tell me about your successes so far:
Where do I start? From childhood to 53, I was an average joe who did not do sports. No run, bike, or swim, more like walk, joy ride, and wade on occasion.
From 54 through today, the last 6yrs??? I've raced about 24 triathlons and 18 5K/10K/Bridge runs, and have enjoyed training multi-thousands of miles of running, biking, swimming, and unicycling.
And let's not forget survived and kicked prostate cancer!
Full Circle and the Ultimate Tri Camp… Bring it on!! I'm ready for their assistance with my next big triathlon goals!
What were some of your biggest Improvements in performance at Ultimate Tri Camp?
Swim: Technique and sighting
Bike: Heels down to utilize power; changing gears is my friend, and keep pedaling, limit coasting
Run: Lean forward and move the elbows
Nutrition/Health: If I eat healthy, the right foods, my mind, energy, and focus will always be there for me
Mindset: If I put my mind to it, grit it through, and be open to the experience, I am guaranteed to be smiling at the finish line. Have you ever seen a finisher of a race not smiling??? I bet you have not 😊
Did you achieve any Personal Records or Goals?
Every year with FullCircle and participating in Camp, I have achieved PRs. And every year, my PRs are different but so very satisfying.
Name 2 or 3 things you feel will make the biggest difference in your triathlon performance after participating in Ultimate Tri Camp:
Motivation, Intensity
Commitment, Focus, and knowing my "pain point" in my training
Resetting my desire, goals, and expectations for the rest of the year
What excites you the most about being involved in triathlon?
It's multi-focal, I'm never bored, and it's always active even while just breathing meditation/intention. And it makes me feel fantastic; It makes me look Hot and Sexy. In the end? It makes me happy being me 😊
What was your favorite part of Ultimate Tri Camp?
Hard to say, but I can tell you the worst part is saying goodbye and going home. Because every moment was an experience I cherish, even when I found myself sitting in my own "shit."
I learned, I absorbed, I connected, and I experienced!
What would you say to someone on the fence about attending Ultimate Tri Camp?
When was there a time when you got 360-degree support and assistance with triathlon training? When have you had a group of people wanting you to personally succeed as much as you do for yourself? When have you taken the opportunity to learn, educate, absorb, avoid pitfalls, and identify success in action? If you haven't, join us at camp; it will change your life!
Are you coming back next year? Already registered, so absolutely!
Want to join us at ULTIMATE TRI CAMP 2024?
This is the best offer you will see.
Pay a $250 refundable deposit by March 31st to secure your savings of 1/2 OFF the total price of Ultimate Tri Camp.
This refundable deposit is valid (through Aug 31, 2023), giving you plenty of time to plan and decide if Ultimate Tri camp is for you! Learn details about attending camp HERE!!
Tentative 2024 Dates February 26-March 3rd.
Erinne Guthrie has been a USA Triathlon Level II Certified Coach since 1999 and Chief Motivating Officer at Full Circle Coaching, LLC since 2010. Creator of Triathlon Transformation. She has been training, racing, and coaching triathletes since 1997. She is also a CHEK Holistic Lifestyle Coach Level 3, USMS Master's Swim Coach, Motivational Speaker, Metabolic Efficiency Specialist, Mom, Mermaid, and much more.