Rockstar Triathlete Brian Dubow
Coach's Notes: Brian came to me with a dream to accomplish an Ironman in six months. Although he did have some running experience, I know that is not enough to get through an ironman.

Six months is a pretty short amount of time to get an athlete there, but I knew my new Triathlon Transformation was the perfect solution.
I prefer to take a newbie through a 2 year process of Sprints and Olympic distance races for the first year, and then 70.3 and full IM distance races for the 2nd year. This approach can be easier on the body and mind.
But when someone comes to me with the "Dream," I get to live my purpose of guiding them through the journey to success.

Brian's open mindedness and willingness to show up and learn, definitely expedited the process. 

There were BIG learning curves to overcome in all three sports. But I know my process works if you are open and coachable. 

His success from month to month was awesome to witness. He showed up to learn from everyone on the team and that's the benefit of the Full Circle Tribe; the support is SOOOOO much of the process and being willing to ask for help when you need it.

Brian's attitude was infectious, and the success kept happening. The first month was all about safety and learning the basics and improving skills, then testing and training smart, following the prescribed progression.

After Ultimate Tri Camp, I can say Brian was officially a triathlete at heart and completing Haines City 70.3, with a smile on his face, I knew we were on track.

The next few months were tough, but he trusted the process and I can say I am so proud of you Brian. Thanks so much for putting your faith in FC. Together we achieved the "Dream" and I know that for you there is no limit…

You are the "Ultimate FC Rockstar!!!" We will miss you dearly. Let's not say goodbye, just see you soon! 
Please watch my LIVE interview with Brian by clicking HERE!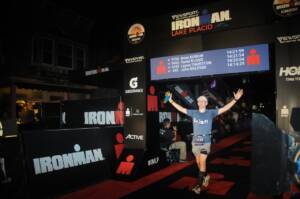 Age
: 27
Profession: MBA Candidate at UCLA Anderson 
Why you chose FCC to help you on your triathlon/health and wellness journey? I signed up for an Ironman with minimal experience in swimming and biking. I needed a coach and team that would help me transform into a triathlete in time for my race (six months out). After meeting with Erinne for a brief informational session, I loved her energy and knew she was the coach for me!
What is your "A" race for this season? Ironman Lake Placid
Please share your BIG goals: My BIG goal was to become an Ironman. At the time, I didn't realize that the six months of training that went into becoming one was the real race, with the Ironman itself being a celebration which enabled me to officially call myself an Ironman and proudly rep the gear. Looking back now, thanks to the training I endured through FCC, the moment I toed the start line in Lake Placid, I was already an Ironman mentally which allowed me to accomplish my Big goal physically.
As a goal oriented person, my next immediate BIG goals have to do with continuing to build my brand (Hit of Happiness), bringing my best self to business school every day, maintaining a healthy/organic diet and staying fit enough to easily ramp up for a marathon.
In the long run, I do want to continue to test my endurance and my limits (or lack thereof). I definitely have a 100-mile ultramarathon on my bucket list.
Tell me about your successes so far: Success is super relative. When I first started training with FCC, making it over the Key Biscayne bridge in one piece felt like a huge accomplishment. Then my first long ride down South with the team was a major milestone. Since then, I completed the Haines City half-Ironman and the Lake Placid Ironman. The real success was showing up to practice day after day after day and growing to love the training and lifestyle.
What were some of your biggest Improvements in performance for the each of the following? Swim: Bike: Run: Nutrition/Health: Please include any Personal Records and Goals achieved:
Swim: I had no form. I might as well have been a fish out of water. My 400m time improved by a minute and a half over my time at FCC and I went from fearing the water to someone who will continue to swim as a form of cross training for the foreseeable future.
Bike: I wasn't comfortable reaching down for my water bottle while riding when I joined FCC. I could barely even clip in. To be able to bike 112 miles on a hilly course like Lake Placid six months later says it all.
Run: Erinne taught me a ton about running form. Even though I was a marathon runner prior to joining FCC, I now have a much more efficient stride and improved my all-out mile time by 20+ seconds.
Nutrition/health: Transitioning back to a social school environment, I am definitely struggling to give up my Ironman training diet/lifestyle. Erinne taught me to eat a much more natural and nutritious diet while also maximizing sleep and minimizing alcohol. I am now far more intentional in what I put into my body and more aware of how different foods make me feel.
Name 2 or 3 things that have made the biggest difference in your journey:
1. The team. The FCC team is an amazing group of humans! They each took time to help me along my journey and provided a ton of accountability and inspiration along the way. I am very grateful for the relationships I have developed. Being a part of this community undoubtedly helped me believe in myself and reach my potential in my A race.

2. The coaches. Erinne and Jac are incredible! They know exactly what they are doing and they tailored my training plan to accommodate my lifestyle. Trust the process, and the results will come.

3. The structure. Having practice in person five days a week was huge for my progress. Every time I went to practice, I pushed myself harder then I would have if by myself, while also improving my form and technique.
What excites you the most about being involved in triathlon?Everyone is on a journey. I love hearing people's stories and being a part of something that for most is about more than completing a triathlon. The community aspect, the internal growth and the self actualization all resonate with me.
What would you say to another person who was on the fence about joining our training program? Just do it! While you may be considering it for physical reasons, you will quickly learn that this is also a spiritual and intellectual journey. With the support of the team and coaches, you can absolutely accomplish your goals, whatever they may be! The only thing standing in the way of you and your triathlon dreams is taking that first step.
Feel free to reach out to me (brian@hitofhappiness.com) if you have any other questions about my journey and make sure to read my Ironman recap below! Ironman Recap (hitofhappiness.com
 Curious about Full Circle's Triathlon Transformation program?  You too can become a triathlete!  Click this link: http://www.scheduleyou.in/5ZIsVaU to schedule your FREE Triathlon Breakthrough Session and let's do it!
Remember to watch my LIVE interview with Brian! It's inspiring!!
Erinne Guthrie is a USA Triathlon Level II Certified Coach since 1999 and Chief Motivating Officer at Full Circle Coaching, LLC since 2010. Creator of the 16 week Triathlon Transformation. She has been training, racing and coaching triathletes since 1997. She is also a CHEK Holistic Lifestyle Coach Level 3, USMS Master's Swim Coach, Motivational Speaker, Metabolic Efficiency Specialist, Mom, Mermaid and much much more.