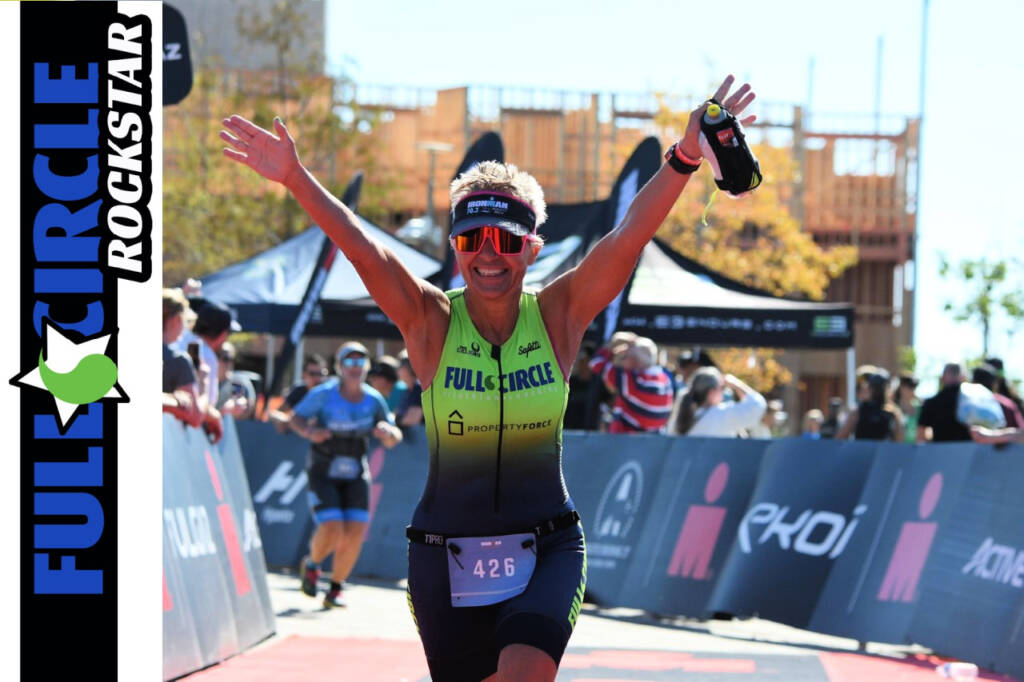 Sub 7 Hours for 70.3 Rockstar Triathlete Carmen Lotti
Coach's Notes:
Carmen started with me just before her 70.3 in Puerto Rico in March 2022. I knew her goal was sub-seven, but we didn't have the time to get her there for that race, but I was confident we would do it for the next one. And guess what? She did it!
We started with her video analysis and testing. She had plenty of fitness and all the best equipment but was not getting into the details of her technique in the swim, bike, and run and using her training zones correctly to achieve the goal.
After the evaluations and testing, the training began, but it was different from anything she had done before. First, we taught her about pacing, timing her nutrition, and that she needed to train by her numbers and then race by her numbers to achieve the desired goal of a sub 7, 70.3.
Mental skills were a critical step in the process- transforming the negative self-talk with tapping and EFT and hitting the goals in training helped her see to believe what is possible.
Were there setbacks? Yes!
Did we keep repeating the process of video, testing, adjusting the zones, training, and slowly but steadily improving? YES, and it worked as it always does.
The recipe I have for my athletes in my Triathlon Transformation Training program is not complicated, but you must complete the steps, do the work, and really want it. And the work includes having a healthy balance in lifestyle and triathlon as well as all I mentioned above.
Thank You, Carmen- for trusting me with the process and continuing to push through when those doubts crept in! I could not be more proud of you, and YES- sub 6:30 in Puerto Rico is the next goal.
LET'S DO THIS!!!
Age:
62
Profession:
Retired Miami-Dade Fire Rescue IT Senior Systems & Networks Administrator
Why you chose FCC to help you on your triathlon/health and wellness journey?
I switched to online coaching during the Pandemic. However, that did not work for me, so I started looking for a local coach to help me improve my swim and run as I am a strong cyclist. I had already been doing triathlons for the past seven years without much improvement and was looking for a coach that could help me move forward. I had seen coach Erinne in action at local events and attended a few of her briefings at the Miami Man Triathlon throughout the years. I admired that Coach Erinne not only coached and actively participated in Triathlons but also involved herself, her Full Circle coaches, and Tribe to assist Team ThumbsUp pulling quadriplegic Kerry Gruson and others during local triathlon races. That is a fantastic way of giving back to the Community.
Also, I was curious to be coached by a woman. Coach Erinne, her Coaches, and her Full Circle Tribe checked all the boxes.
What is your "A" race for this season?
My "A" race for this season was Ironman 70.3 North Carolina, which I completed on 10/15/2022 and achieved my goal of doing in less than 7 hours.
Please share your BIG goals:
My big goal is to do Ironman 70.3, Puerto Rico, in less than 6:30 and get a podium. Being Miss Puerto Rico 1981 for the Miss Universe Pageant, it would be a dream come true to represent again my beautiful Island but this time in a sporting event.
Tell me about your successes so far:
In the past eight years, I have completed 8 Half Irons (7 Ironman brand and 1 Miami Man 70.3), over 40 Sprint/International/Olympic Triathlons, 4 Long Distance AquaBikes, 2 Full Marathons, 7 Half Marathons, 4 5K Runs and 1 10K Run. With very few exceptions, I have a podium in most Triathlons and a podium in the 10K Run. I was part of Team USA Long Course AquaBike for ITU Pontevedra, Spain, World Championships in 2019. I look forward to more success now that I am part of the Full Circle Tribe.
What were some of your biggest Improvements in performance for each of the following? Swim, Bike, Run, and Nutrition/Health. Please include any Personal Records and Goals achieved:
I came to Coach Erinne with many bad habits, insecurities, and poor techniques I had developed over the years.
My nutrition was not on point, and my mental strength was weak. I considered myself a big challenge for her.
However, I am now:
Eating healthier
Training smarter
Getting stronger
Stretching and resting more
Happier with myself and
Correcting my form in all three sports.
I just got a Swim Personal Record of 35 minutes in an Ironman 70.3 1.2 mile Open Water Swim (my prior record was 43 minutes).
I also got an Ironman 70.3 Half Marathon Run Personal Record of 2:57 (my previous record was 3 hours). I finally achieved my goal of doing an Ironman 70.3 in less than 7 hours which I did in 6:50 thanks to Full Circle Coaching.
Name 2 or 3 things that have made the biggest difference in your journey:
The Assistant Coaches are fantastic. They assist Coach Erinne with the swim, bike, and run. Coach Jac, Coach Ollie, and Coach Dennis helped me with my swim, bike, and run. It is excellent to get their different points of view and connect with them.
The Full Circle Tribe is unique. Teammates welcome you into the family and share their training experience with you. I find inspiration not only from the Coaches but from every single team member in one way or another.
Getting a race plan. I had never planned a race before, step by step. But it was a game-changer when executing it during the actual race. I knew exactly what to do and got the results that I expected.
What excites you the most about being involved in triathlon?
I love the Triathlon Community. Triathletes are disciplined, and we consider ourselves a big family. It is good for your physical and mental health. I love following the pros, especially the Women.
What would you say to someone on the fence about joining our training program?
Full Circle Coaching is the complete package. You will have hands-on coaching on all three sports, nutrition, and mental strength. You will join a family that will support you in every aspect throughout your Triathlon Journey. Join us!
This could be you!
JOIN MY FREE 4-DAY NUTRITION RESET CHALLENGE
Erinne Guthrie has been a USA Triathlon Level II Certified Coach since 1999 and Chief Motivating Officer at Full Circle Coaching, LLC since 2010. Creator of Triathlon Transformation. She has been training, racing, and coaching triathletes since 1997. She is also a CHEK Holistic Lifestyle Coach Level 3, USMS Master's Swim Coach, Motivational Speaker, Metabolic Efficiency Specialist, Mom, Mermaid, and much more.